A proposito di Me
Dalla Passione per la Pizza, all'Amore per la Mia Terra d'Abruzzo !
Inizio la mia avventura come pizzaiolo nel 1998, dopo vent'anni di numerose ed appassionanti esperienze nel mondo della ristorazione.
Ho cominciato come autodidatta e
in seguito ho completato la mia formazione con corsi di aggiornamento professionale.
La mia carriera si consolida nella frequentazione assidua di fiere e manifestazioni di settore e nella partecipazione a diversi concorsi, nei quali – dopo qualche tempo – ho iniziato ad affermarmi.
Nel 2006 ottengo il massimo riconoscimento al Campionato Nazionale di Pizza Piccante a Scalea (CS).
Dall'inizio del mio viaggio nel mondo della pizza ho affrontato diverse esperienze professionali. La più significativa è stata la gestione – dal 2000 al 2008 – della Pizzeria Stuzzicheria "Stella d'Abruzzo" di Lanciano (Ch).
L'ampio riscontro del pubblico e della stampa mi hanno permesso di sviluppare un progetto di pizzerie in franchising, che è tuttora in progress e che mi vede impegnato nella formazione del personale e nel controllo della produzione del laboratorio.
A tutt'oggi sono impegnato in prima persona in questi progetti, ricoprendo il ruolo di Presidente e Direttore Didattico dell'ACCADEMIA Italiana SCUOLE di PIZZA, che svolge
regolarmente attività formativa a decine di pizzaioli e pizzerie ogni anno.
Sono anche Socio fondatore dell'IPA Srl s – Società che si occuperà in maniera completamente professionalizzante dell'attività svolta dall'Accademia per quanto riguarda la Formazione nel settore Pizza e Pizzaioli presso enti accreditati consociati IPA e avrà un ruolo fondamentale anche nella gestione e nello sviluppo di vere e proprie attività commerciali nel comparto pizza con forte connotazione regionale e nazionale in un'ottica di franchising.
L'obiettivo delle mie attività, che funzionano in piena sinergia tra di loro, è promuovere la conoscenza tecnica della Professione di Pizzaiolo-Chef e valorizzare le eccellenze abruzzesi e del Made in Italy a 360°.
"Prodotti Tipici e Territorio" è la sfida che voglio affrontare con la consueta passione che mi distingue, partendo dall'Amore viscerale che nutro per la mia Terra natia, l'Abruzzo…
…non solo per una questione alfabetica, ma anche di mero e corale campanilismo, che mi auguro mi si vorrà perdonare… e si sa che al cuor non si comanda!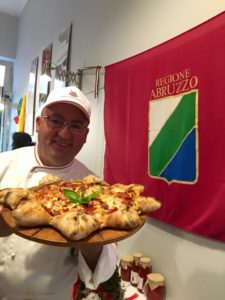 Per contattarmi direttamente, potete scrivere a:
info@nicolasalvatore.com
Vi risponderò prima possibile.
---
ABOUT ME
From the Passion for PIZZA all from my land of ABRUZZO.
The beginning of my adventure as a Pizza Maker. In 1998 after twenty years of numerous and exciting experiences in the restaurant world.
I started as an autodidact and later I completed my training, with professional refresher courses.
My career is consolidated with the attendance of fairs and events that are relevant to my sector, and in the participation of various Competitions, to which after some time I started to assert myself.
In 2006 I received the highest recognition and was awarded at the National Pizza Piccante Championship in Scalesa (CS).
Since the beginning of my journey in the world of PIZZA, I have faced many different professional experiences. The most significant was the management from 2000-2008 of the STUZZICHERIA PIZZERIA "Stella d'Abruzzo" in Lanciano.
The wide and broad response from the public and the media has allowed me to develop a Franchising Pizzeria Project. to which is still ongoing and involves staff training, and laboratory production control, to this day I am still personally involved in these projects.
I also hold the position of President and Director of Education of the Pizzaioli – Chef Italian Academy, which carries out regular training to dozens of pizza makers and pizzerias every year.
I am also a founding member of IPA Srl. A company that deals in a completely professional manner with the Academy, in regards to training in the Pizza and Pizzaioli sector, and it's also accredited IPA affiliated institutions, it also plays a fundamental role in the management and development of a real own commercial activity.
The goal of my activities which maintains full Synergy between them is to promote, the technical knowledge of the Pizzaiolo-Chef Profession, and enhance the excellence of Abruzzo and the Made in Italy at 360
"Typical Products and its Territory" is the challenge I face with the usual passion that distinguishes me, starting from the most visceral love I have for my native land "ABRUZZO"…… not only for an alphabetic question but also for the mere parochialism, which I hope you will want to forgive…….. and it's knowing that the heart is not to be commanded.

Come passo il mio tempo
Il Mio Progetto Pizza Abruzzo Doc 80%
Pizza & Tipicità d'Abruzzo 40%
Scuola di Pizza 40%