Pizza School Academy
"Un insegnante colpisce per l'eternità; non si può mai dire dove la sua influenza si ferma" (Henry Brooks Adams)
Ciao permettimi di presentarti il Mio Progetto PIZZA SCHOOL ACADEMY
Sviluppato dopo trent'anni di appassionanti esperienze nel mondo della ristorazione, oggi Ti invito ad approfondire la conoscenza della PIZZA e a condividere con me la Tua passione, attraverso i miei Per-CORSI Formativi.
Un nuovo e vero MODELLO PROFESSIONALE di SCUOLA rivolto a tutti gli operatori del settore che vogliono lavorare in modo moderno, questo antico prodotto italiano, per offrire qualità e professionalità a tavola. Unici e riconosciuti.
La Mia MISSION è: formare al meglio nuove leve di pizzaioli in tutto il Mondo, e sostenere con aggiornamenti continui, i pizzaioli professionisti già affermati, gli operatori e i responsabili dell' area manager e vendite delle aziende di settore più importanti.
TEMATICHE DEI CORSI:
All'interno dei miei MODULI DIDATTICI parlerò degli aspetti TEORICI della creazione della Pizza (dalla storia, alle tipologie di farine, dai diversi ingredienti dell'impasto, alla sua lievitazione, e così via).
Ma non solo…
Condividerò con Te soprattutto gli aspetti PRATICI, mostrandoti one to one, la corretta produzione dell'impasto, la formazione dei panetti, la successiva manipolazione, l'impalatura, la farcitura, la cottura e tutti gli aspetti necessari per la buona riuscita di una Pizza.
Ma che dico?
Per la riuscita della VERA PIZZA TRADIZIONALE ITALIANA!
Affronteremo anche argomenti "extra" che Ti guideranno passo passo alla corretta presentazione del TUO piatto… perché ricordalo: (La PIZZA è un piatto… nel quale OGNUNO da "libero" sfogo alla propria FANTASIA).
ISCRIVERSI ai miei corsi, significa scegliere di far lievitare in modo evoluto e moderno la propria professionalità.
Gli obiettivi del mio progetto PIZZA SCHOOL ACADEMY sono:
la divulgazione di nuovi metodi di lavorazione;
l'informazione su innovative tecniche di produzione;
l'ideazione e la messa appunto di nuovi prodotti studiati appositamente per la pizzeria… che scopriremo insieme con Consapevolezza, durante tutto il corso;
la condivisione di esperienze e la formazione aggiornata e continua sul Mondo Pizza;
Ma per approfondire ogni DETTAGLIO circa la Tua partecipazione ad uno dei miei CORSI:
COMPILA Questo Modulo CONTATTI:
Oppure contattami direttamente sul mio personal mobile
+39 348 1888700
---
PIZZA SCHOOL ACADEMY 
"A teacher strikes for eternity; you can never tell where its influence stops "(Henry Brooks Adams)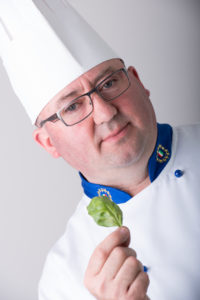 Hi, let me introduce to you my Project PIZZA SCHOOL ACADEMY, developed after thirty (30) years of Passionate experience in the restaurant world, today I invite you to deepen your knowledge of the PIZZA, and to share with me your passion through my formative Per-Courses. 
A new and true PROFESSIONAL SCHOOL MODEL for all operators in the sector who would like to work in a modern way, the ancient Italian product, to offer quality, and professionalism at the table unique and recognized. 
My MISSION is: to train new generations of pizza makers around the world, and to support them with continuous updates, already established professional makers, the operators, managers, area managers, sales person of important companies. 
COURSE TOPICS.
Within my TEACHING MODULES, I will talk about THEORETICAL aspects, the creation of Pizza ( from  history, the types of flour different ingredients to the dough it's leaving, so on ) 
But not only ………. 
I will share with you all the PRACTICAL aspects showing you one on one the correct, production of the dough, the formation of the dough balls the subsequent handling impalement, filling, cooking and all the aspects necessary for a good successful PIZZA. 
But what do I say??? 
For the success of the REAL TRADITIONAL ITALIAN PIZZA. 
We will address "Extra" topics that will guide you step by step to the correct presentation of your dish………….remember (PIZZA is a dish……in which everyone gives "free spirit and adds its own FANTASY) 
Subscribing, to my courses means choosing to make your professionalism rise in an advanced modern way. 
The objectives of my PIZZA SCHOOL ACADEMY projects are: 
The dissemination of new processing methods: 
Information on innovative production techniques: 
The conception and commissioning of new products designed specifically for the   
Pizzeria………which we will discover together, with awareness throughout the course. 
The sharing of experiences and updating with continuous training at PIZZA WORLD. 
But to deepen every detail about your participation in one of my courses.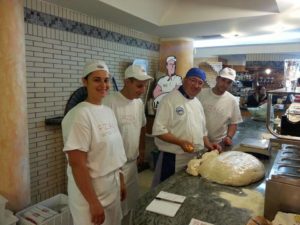 Or you can contact me directly on +393481888700