Pizza Abruzzo Doc
La Pizza con l'Abruzzo nel Cuore ♥
"PIZZA Abruzzo DOC" vuole rappresentare la pizza di alta qualità dove l'eccellenza delle materie prime utilizzate, con particolare riferimento a quelle regionali abruzzesi, saranno al centro delle Sue attenzioni, insieme ad altri elementi che la distingueranno in modo particolare, come;
l'Amore per i sapori veri delle eccellenze gastronomiche locali, il più possibile Biologiche,
e la Passione per la Pizza unita a quella per le più moderne ed attuali strategie di Marketing e comunicazione, per una più efficacia azione d'impresa,
tutti elementi che serviranno a promuovere e far conoscere i Territori di riferimento e le Proffesionalità in essa contenute, in maniera consona ed adeguatra alla loro importanza!
In sintesi….
Una visione molto ampia e moderna delle MIGLIORI Tipicità… d'Abruzzo & Molise.
Un'idea imprenditoriale che unisce produttori, operatori professionali della ristorazione pizza oriented e gente comune, con un ambizioso obiettivo: portare le migliori eccellenze del territorio oltre i confini regionali e nazionali, facendo impresa di gruppo, sotto il segno del piatto più amato della cucina italiana: LA PIZZA, in maniera Professionale e Passionale!
Se trovi interessante questo mio ambizioso progetto, e vuoi saperene di più per approfondirne tutti i dettagli
---

Pizza with Abruzzo in the heart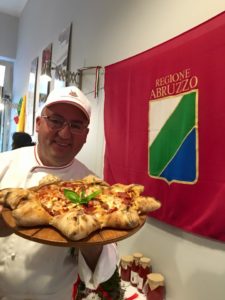 PIZZA ABRUZZO DOC,
I would like to exclusively represent high-quality pizza, where the Raw materials, are used with particular reference to the Regional Abruzzo ones. and will be at the center of its attention, together with other elements, that will distinguish it in a particular way such as:
The Passion for pizza and the love, for its land, where the true flavors of local gastronomic excellence, as much as possible Biological and as organic will also embrace the most modern and current Marketing, and communication
strategies, for a more effective business action, as well as promoting awareness of the reference to its territories, and the professionalism it contained to their importance.
In Summary………………………..
A very broad vision is modern in the best typicality…….. from Abruzzo and Italy
An entrepreneurial idea, that unites producers, professional operators of the pizza-oriented catering and also ordinary people with an ambitious goal: to bring the best, Abruzzo and Italian excellences beyond the Regional and National borders.
Creating a group of businesses under the logo of the most loved dish of the Italian cuisine "LA PIZZA " in solidarity and passionate manner.
If you feel my ambitious project interesting and would like to be part of it or require further details.